Clear Condom Wrappers Assorted Color Condoms
Red, Orange, Yellow, Green, Blue, and Purple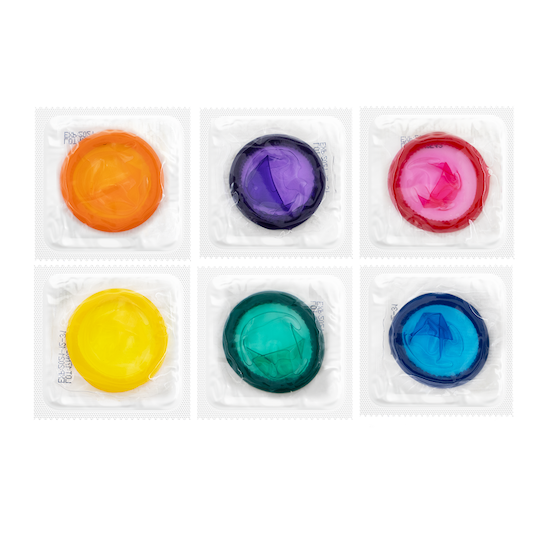 Lowest Pricing
Up to 40% less than our competitors
Fast turnaround
Within 6-8 business days
High quality
Printed at FDA approved facility
Low minimums
Starting at 50 pieces
Protection
Full product liability insurance
Price reflects cost per wrapper, 50 minimum wrappers per order.
Present your organization or event in style with this very popular give-a-way! Your art is printed directly on a clear wrapper. Condoms inside are in Assorted colors, which will include: Red, Orange, Yellow, Green, Blue, and Purple. If you'd like a single color only, click here instead. Click on the colors below the design tool to see what your art will look like on a specific color. It does not matter which color you submit your art on, your final order will print on all the assorted colors listed.
CONDOM SPECIFICATIONS
These lubricated condoms are made with high-quality latex, and are cleared for sale by the FDA for the prevention of STIs and unintended pregnancy. Condoms have up to a 5 year expiration date. 
DESIGN GUIDELINES
Product Dimensions: 2 inches by 2 inches. Imprint Area: 1.3 inches by 1.3 inches. It is not possible to print a full bleed (edge to edge) on this option. Please check out our art guidelines by clicking here. Please note you can only design one side, the other side has the required regulatory text that is required on condoms. 
LEARN MORE
Have questions about ordering, production time, shipping, templates, or more? Visit our FAQ page.