OUR PRINTING PROCESS
Learn more about our printing process and options. Let us help you select the best option for your Custom Condoms® project, depending on your timeline, quantity, and design needs.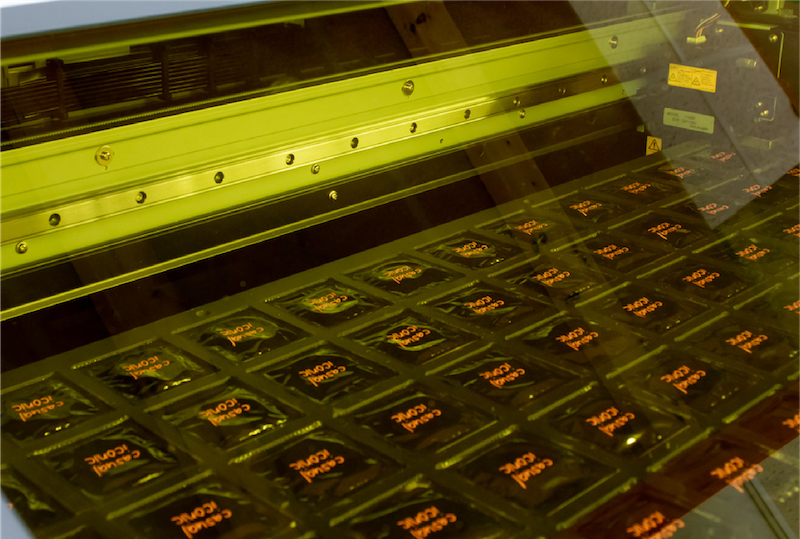 QUICK SHIP - SURFACE PRINTING:
When you place an order through CustomCondoms.com, your design is printed in our factory Boston, which means fast turnaround times. The design is printed directly onto a blank condom wrapper (or other product). You can print as little as 10 condoms per order and you're not limited to just wrappers (we have condom cases, condom pops, condom buttercups, and condom keychains). However, in-house printing is not as customizable due to the specific condom wrapper colors available. We have stock of different wrapper colors, and we use our machine to print directly onto those wrappers. See our pricing.
Get Started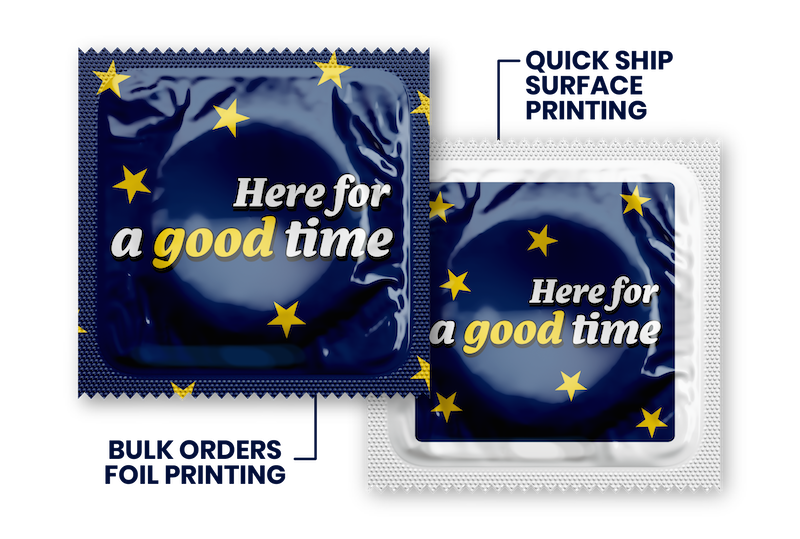 BULK ORDERS - FOIL PRINTING:
This option allows you to fully customize to any wrapper color, has a 10,000 minimum quantity, and is longer lead-time. It takes 8-10 weeks from start to finish: 8-9 weeks for production and an additional week for final quality check and shipment via airfreight to the U.S. The minimum print quantity is 10,000 pieces. But, if you have more than 8,500 pieces, we recommend getting a factory digital print run because the price break for 10,000 pieces will save you money. The limitation is you can only print on square condom wrappers, but allows for full customization. You can choose any desired color and design, with edge-to-edge printing, and it is easier to print small texts and tiny details! You can partially customize the back of the wrapper, too. This type of printing allows you to select ultra-thin condoms. The pricing is $3,500 for 10,000 condom wrappers (plus freight and tax).
Get Started
TO COMPARE CHECK OUT THE CHART BELOW:
SURFACE PRINTING
FOIL PRINTING
TURNAROUND TIME
Faster Turnaround Time 6-8 business days (in most cases)
Foil Printing has a turnaround time of 8-10 weeks.
MINIMUM QUANTITY
10 pieces
10,000 pieces
PRICING
See here by product. Shipping and taxes charged separately
$3,500 / 10,000 condoms (35 cents per piece)
$7,000 / 25,000 condoms (28 cents per piece)
$11,000 / 50,000 condoms (22 cents per piece)
Freight and taxes charged separately. Non-profit and ASI discounts available.
CUSTOMIZABILITY
Not Fully Customizable
Limited colors available and and slightly less effective at printing tiny details (i.e., really small letters).
Fully Customizable
Full color range and can easily print tiny details (such as small text and details). You also have the option to choose an ultra-thin condom style.
PRODUCTS AVAILABLE
Includes option to print on condom wrappers, condom keychains, condom carrying cases, condom buttercups, and condom pops!
Prints only on square condom wrappers.
Get Started
GET STARTED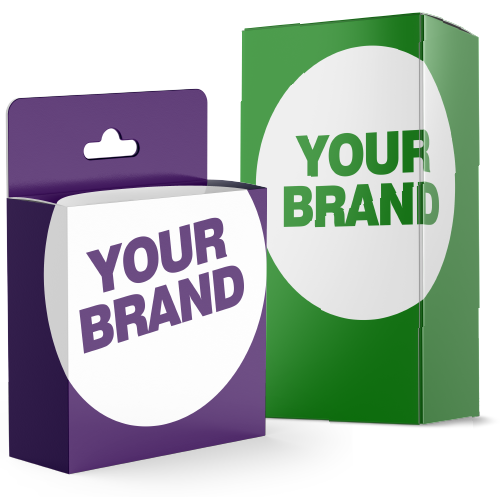 RETAIL READY PACKAGING
Interested in selling your condoms? The Custom Condoms® program (www.customcondoms.com) allows you to apply your logo or design to a variety of ready-made condom promotional items, such as condom keychains, condom pops, condom buttercups, condom wrappers, or condom cases. They are intended more as promotional items, such as for events, parties, or giveaways. Condoms are classified as a medical device, and the packaging of condoms is overseen by the FDA. Because Global Protection is the condom manufacturer, Custom Condoms® products cannot be repackaged into retail cartons (such as 3-packs or 12-packs). There are very specific rules/text and lot coding for retail cartons that must be approved and overseen by Global Protection (the manufacturer). Custom Condoms® thus cannot be sold in-store or in a retail setting. However, Custom Condoms® can be sold online in bags, as long as Instructions for Use (IFU) is provided to the customer. If you are interested in retail packaging or developing an actual brand for sale, please check our Private Label program.